AMS Village Libraries
– Making reading & writing fun!
Over the last two decades the Adivasis of Gudalur have been engaged in rebuilding and strengthening their community. Beginning with a land rights movement, the Adivasi Munnetra Sangam (AMS) have successfully reclaimed and are cultivating our land. In addition, we have set up healthcare, housing and economic initiatives to support members of our community. The Vidyodaya school was established in the 1990s to address the need for quality education for our children. Although some children attend this school, many others are either not in school or attend government schools where they are not achieving their full potential. In response, the idea of setting up Village Libraries was conceived as a way of reaching these children and supporting them.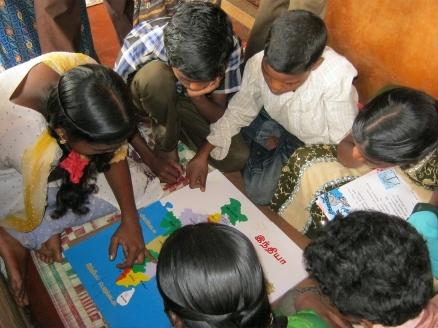 What is a Village Library?
"In Chembakolli we have two libraries: One in M Badichi's house for the Bettakurumba tribe and another at the balawadi (creche) for the Kattunayakan tribe. We have a trunk in which we keep books and puzzles. On Saturdays children come to the library and we give them books and puzzles. We play games with the little ones, teaching them using jigsaws, pictures and maps".
Nibuna (Village Librarian)
Who are the village librarians?
Village librarians are children who volunteer to manage small libraries and provide educational support to their peers. Most of them are students from classes 7 to 10 and some have dropped out of school. The librarians receive training and ongoing support and materials from the Vidyodaya Trust.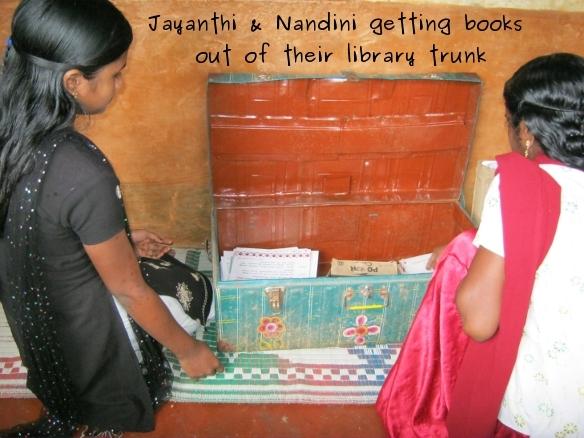 What does the training involve?
"Once a month (week-end) for six months we have Librarian Training. We love these sessions. Children librarians like us come from many different villages. We make friends from different villages. We play together, read, tell stories, do puzzles and jigsaws".
C. K. Badichi (Village Librarian)
The training ensures that Librarians are at least educated to Grade 4. It is essential that they are able to read the books in the library and that they have a good grasp of Maths and English, so that they benefit too. They learn to teach games, songs and other educational activities that they can run with their peers. They learn to make storytelling and reading interesting and enjoyable. They also learn to keep records of which books have been borrowed and returned and monitor how many children seek out their support, and how frequently.
"As another part of our training we go on exposure visits. In December, we went on a trip to Calicut, a city in Kerala. We went to the beach, the airport and the port at Beypore. Wearing 3-d glasses at the planetarium was fun!"
Sruthilaya (Village Librarian)
The exposure trips are a crucial part of the training because they are of educational value and, more importantly, they provide an incentive to motivate Village Librarians' commitment.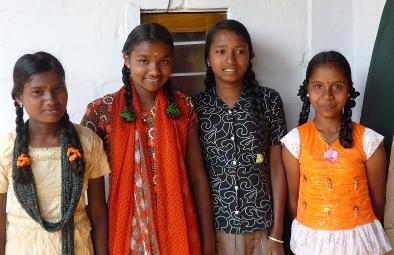 What is the process for setting up a Village Library?
First, we identify villages with highest number of out-of-school / low achieving children
Next we organise for children from different villages to visit the AMS area centre's mobile library, where they read and play games. The Education coordinator, volunteers and village education workers run these weekend sessions. This develops their interest in books, reading and learning. After six months or so, children are keen to start their own village library!
Village Librarians are identified. There are between one and three Librarians per village. We encourage as many children as are interested to become Librarians because the training is of educational value to them and provides them with an opportunity to meet children from other villages
We run monthly training sessions, camps and exposure visits for Village Librarians
We provide books to lend to children and either a trunk or cupboard for storing them in.
Why are the libraries important?
"We can teach other children and they can learn. Some children in our village have never come to the library because they're scared of books! We would like more children would come to the library so that we could open it daily instead of just on Saturdays".
M. Badichi (Village Librarian)
The village libraries are spaces where children can meet, exchange ideas, support each other in their learning and have fun. Many children have only ever read from boring textbooks and here they learn to enjoy reading. Once they have discovered the joy of reading their access to other sources of information and knowledge are opened exponentially.
What are our future plans for the village libraries?
Over the last year the number of libraries in place has increased from 16 to 44. Our aim is to have set up libraries in 60 villages by the end of this year and to have expanded to 100 villages within 3 years. Library sessions are held on the veranda outside Librarians' houses. Books are stored in trunks in someone's house. Our aim is to purchase steel cupboards for each Library in order to organise materials and protect them from termites and damp. Our longer term plan is to build Education Centres in every village, where children can meet to study and play.
What do we need support for?
The cost of running the Village Libraries includes:
– Training of Village Librarians: Training, camps and exposure visits are of educational value for Village Librarians but also, and very importantly, they provide incentive and motivation for Librarians' continued commitment
– Purchase of educational materials: At present we have no budget for buying books and indoor games. We currently only have books of a very basic level and do not have enough for the new libraries we plan to set up.
– Purchase of steel cupboards: At present books and materials for the libraries are stored in trunks. Steel cupboards would protect the books from termites and damp.
– Mobile libraries: The mobile libraries are an essential and initial part of the project since they enable us to reach out to villages and identify Librarians.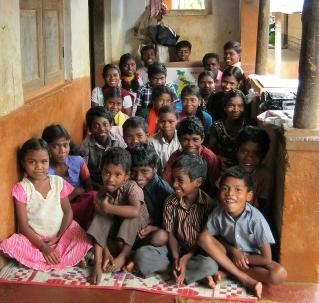 The Village Library Project is an attempt to create a permanent educational capital in the village in terms of both materials and personnel. These children who have been trained are potential teachers in the village. We need to touch all the 310 villages in course of time and we need all the support that we can get. We thank you for yours. This is what has made it possible for us to work intensively and make dreams happen.
Annual Report
The last year has been full of interesting developments, both at the school and in different villages. Take a look at our ANNUAL REPORT to learn more about what we've been doing over the last year!