Skills Upgradation Training Jan'15 to Dec'15
ViswaBharatiVidyodaya Trust (VBVT) has been conducting an intensive residential Two-year teacher training programme for batches of around 15 youth from the adivasi community since 2009. There was a need felt among these trained teachers to upgrade their own teaching skills that could enable them to reach to children in an efficient way. To address this need, in the year 2015, VBVT has started a 2 years Skill Upgradation program to a batch of 15 trained teachers (8 male and 7 female) from 3 tribes Paniyas, Mullakurumbas and Bettakurumbas – but 1 of them left the training due to personal reasons.
The Skill Upgradation training program provides training in the following areas:
| | |
| --- | --- |
| Topics | Year 1 – Total No. of hours |
| Computer Training | 90 |
| Leadership & Communications | 66 |
| Herbal medicines and nutritional foods | 60 |
| Games | 44 |
| Art &Craft | 50 |
| Science experiment (grade 5, 6 & 7) | 60 |
| Science theory (grade 7 & 8) | 60 |
| Mathematics  (grade 6, 7 & 8) | 60 |
| English (grade 4,5 &6) | 60 |
| Spoken English | 60 |
 As a part of this program on Herbal Medicine, with the support from FRLHT (Foundation for Revitalization of Local Health Traditions) the trainees visited villages to learn on herbal medicine, interviewed practitioners, conducted workshops and documented a note on how to revive this herbal practices.
As an exposure visit, the trainees visited Tropical Genepool Garden in Nadugani  – surprised by the varieties of species, the visit gave them a thought-provoking experience.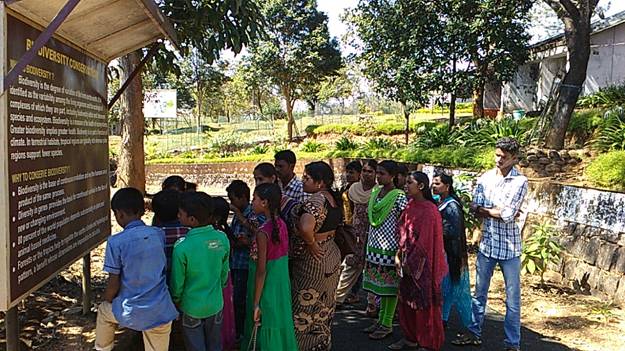 Trainees visit to Tropical Genepool
Garden, Nadugani
Assessment:
For each area the assessment is done based on different criteria like –         
Participation in class
assignments submission
communication level
self initiative level
In general the trainers felt the trainees have shown good overall improvement in all the areas. They were able to
communicate in English, use internet to gather information & learn, solve problems better, express creativity in activities,relate concepts between Spoken English & subject English etc.,During the sessions, the trainers could see the trainees' interest, curiosity and questioning sense that showed improvement in their confidence level & communication skills.  Also, trainers felt their General Knowledge level has to be improved through series
of activities.
***************************************
Teacher Training Program 2014
Viswa Bharati Vidyodaya Trust has been conducting an intensive residential Two-year teacher training programme for batches of around 15 youth from the adivasi community since 2009. This purpose is to equip at least one or two persons in each village who will help children in their studies upto Class 8 (Elementary)level and thereby enabling
to conduct evening classes in the village
to take week-end classes at the area level
to teach full time in schools
Teach in Centres for drop-out children and help them join the mainstream schools.
To make parents aware of educational needs, their child's learning levels, and advice them about the best options for their child
In the current batch there were 14 candidates from three tribes – Paniyas, Kattunayakans and Bettakurumbas initially but 3 of them left during the second year for various personal reasons. The batch had already completed the first year of training in 2013 and the Poristes funding helped the second year of training. A new batch of candidates is being taken in the year 2015.
The students are taught all the subjects essential for them like Tamil, English, Mathematics, Science, Social studies, Art & Craft, Health Education, Library, Teaching – Learning method, Child Psychology, Adivasis of the world – history and their knowledge, Adivasi Munnetra Sangam, Philosophy of Education, Challenges in Education, and Institutional management. During the second year they also began an intensive teaching programme in the Vidyodaya school where they are supervised and mentored. Only after this is completed are they given their certificates.
A baseline study was conducted at the beginning of the session. The students were tested in all subjects. They are continually tested during the course of the programme to ensure that they maintain their standards. They mentioned that they found English and Maths particularly challenging.
The process of their end of term Assessment:
After revisiting the method used for the first batch of Trainees, the Trainers felt that an exam mode of Assessment really didn't give us a good picture of their progress and development. After a prolonged session it was decided that a a two pronged method of Evaluation be done.
The first- Each subject teacher would give the Trainees a kind of a challenge, like a project, or preparing a question paper for a Class five student in a subject like Math or Science, or study a by observing a child and making a case study of the challenges it faced as a learner – for a subject like child psychology .. and so on for different subjects.
The second – Each Trainee would be asked to choose a Trainer from the Trainer group and sit with them on an individual basis ans try explain their own progress in many areas, to the Trainer of their selection. Two or three days time was allotted to make the Trainee feel happy and confident to talk about themselves, in an unhindered manner. This got us many insights into the problems faced and resolved, the self doubt they went through, the determination to resolve difficulties in the manner they had tried out during the Training course and lastly the importance of working together in a group irrespective of the individual differences among them.
Students were also taken to various exposure visits to courts, police station, government offices etc to build up their confidence and to give them exposure of the world around them and what they have to deal with.
Students were also taken to Calicut city, as no one of them had been to a city where they got to see the airport, shipbuilding yard, planetarium and above all what surprised them most was the sea and that its water was actually salty!
About the course from a Trainee:
'When I came here I wanted to learn about teaching, but it seems that I am learning more about myself and my community. Doing a Teacher training course has equipped me with leadership skills and now in the village, the same people who earlier saw me only as a child now recognize me as a leader and come  to me for any of their problems.'
*******************************************
Teacher Training 2012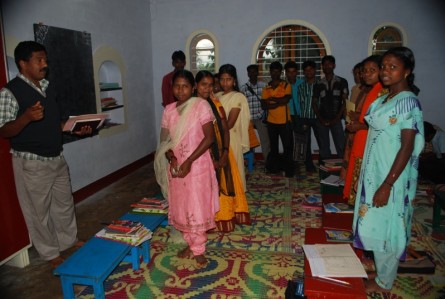 The major lacuna that is seen in the government schools is that there are few teachers who are motivated and trained to handle children. Secondly, when it comes to dealing with adivasi children the non-tribal teachers are at a loss as they do not know the language or the culture. It is to fill this vacuum that the full-time training course is envisaged. These trainees after the training can take up posts through the Parent-Teacher associations as temporary teachers and later attempt to have them absorbed into the system. Already we are pressurised to support such temporary teachers but have avoided it for reason of not having trained personnel. In the 1992 ACCORD had a programme of Voluntary teachers in the 14 GTR schools but it was stopped after 4 years as the teachers were not trained and so the teachers were never given importance in the school. This is now overcome and the schools are asking for teachers. At this juncture we can reach out to having these persons placed in the schools. Following this we can compel the government to take them on as staff, particularly in the GTR schools.
Three or four of them can also work in the three NIOS sub-centres that are planned to be initiated in the Areas in the third year catering to around 100 children. As the numbers of these sub-centres expand more of these teachers can be placed there.
We are training 17 teachers in the first batch and of these trainees it is planned that 16 of them can be posted in the Areas. We expect that 12 will be posted in the GTR and Panchayat primary schools. While these 12 teachers may not teach all the children in the school they can reach out to all the adivasi children in the school. They will be able to have direct contact with over 500 children as we will try to put them in schools that have majority adivasi children.